Irish Jewelry
Emerald Irish Jewelry
Popular in emerald Irish jewelry is the Claddagh.
The Claddagh is the name of a beach area in the western part of Galway, Ireland. People have been gathering seafood and fishing from the area for millennia. Historically, its existence has been recorded since the arrival of Christianity in the 5th century. The name is based on the Irish word cladach, meaning "a stony beach". It is one of the oldest former fishing villages in Ireland.
The Claddagh ring, however, is a traditional Irish ring, with a raised design of two hands clasping a crowned heart and traditionally given in friendship or worn as a wedding ring. The design and customs associated with it originated in the Irish fishing village of Claddagh, located just outside the old walls of the city of Galway. The ring was first produced in the 17th Century during the reign of Queen Mary II, though some elements of the design are much older.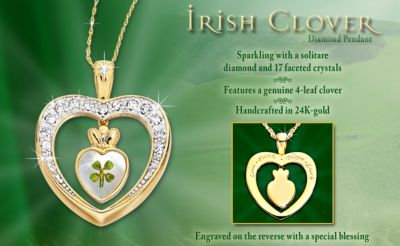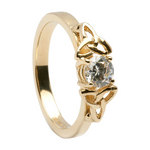 Irish Jewelry