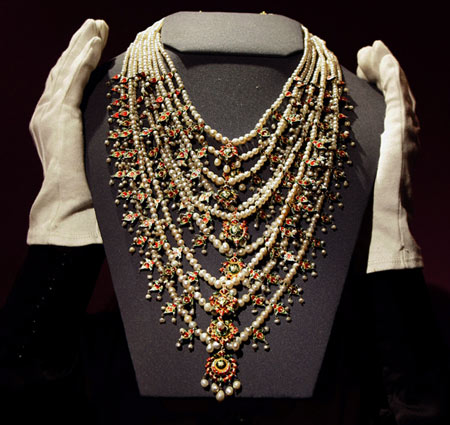 Arab singer Umm Kulthoum Pearl Necklace
Umm Kulthoum's antique necklace fetched $1.3 mn, almost 10 times of its pre-estimated sales amount at Christie's auction house.

An antique necklace embedded with around 1,888 pearls, a pricey possession of Egyptian Singer Umm Kulthoum is all set to go under hammer in Dubai on 29 April. The necklace was once gifted to Kultham by Sheik Zayed Bin Sultan Al Nahyan, the late president of the United Arab Emirates and is anticipated to fetch $80,000-$120,000 during the Jewels and Watches auction in Dubai.

Christie's spokeswoman Clare Roberts said Umm Kulthoum received this nine-row necklace from Sheikh Zayed bin Sultan Al Nahyan in 1970s. Born in 1904, Umm learnt singing from her father and debuted her first footage in the mid-1920s and by 1930s; she reached the top of Cairo's composition panorama.